Bout Marking
---
A bout marker simplifies the accurate distribution of chemicals where there are no tramlines or obvious rows to follow in the field. The foam type marker that we normally use leaves a series of foam blobs down the field in line with the end of the spray boom. On the return run the end of the boom is simply kept in line with the blobs to avoid any under or overlapping.
---
TrailLine electro-pneumatic foam marker
The TrailLine foam marker is an electro-pneumatic unit, using an economical 12volt compressor connected to the vehicle battery. A water / foam concentrate mix is pumped to the mixer nozzles at the boom-ends by compressed air at 0.4 atms. Compressed air is also led separately to the nozzles which mix the air and water and, in so doing create the foam, and deposit it at intervals down the field. The distance between the blobs is adjustable by altering a valve on the compressor unit to alter the amount of liquid going to the nozzles.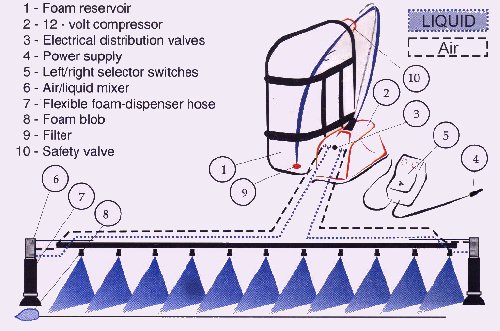 In the Frazier machines a single control switch built into the main sprayer control panel allows the user to switch the marker on and off and to select which side of the boom is in operation.
| | |
| --- | --- |
| | As well as being an option on the Frazier range of sprayers, the TrailLine marker is also available as a complete kit to fit any sprayer with up to 24m booms. It is supplied complete with full assembly and operating instructions |
---
| Homepage | Index | Products | Whats New |
---